The "Bring Tohoku Kids to Swiss Camps!" Project
invited a
3rd-grade girl
from Sendai which was hit by the Great East Japan Earthquake in March 11, 2011. She attended a 1-week Winter camp in Schönried, Switzerland
This is a report from the 9 year-old girl, Hanon, after she returned to Japan.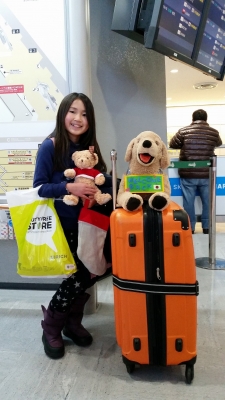 I had a great fun in Switzerland!
I almost cried when I was leaving the camp school. I had so much fun every day and did not want to leave.
On my first day, kids who were already attending the camp came to the Art Room where I was. They each shouted, "Who is this?" "What is your name?" I told my name and became friends with them instantly.
They are from England, Egypt, South Korea and USA. There was a girl from Japan as well.
From the next day, we got up, changed our clothes and ate breakfast, then we went SKIING! SKIING! SKIING! We came back to school for lunch and went back again to the mountain for more skiing! For some afternoons, we had English lessons.
On the Christmas day, we had gorgeous dinner. On the next day, we gathered together in the lounge in our pajamas to receive Christmas presents under the tree. We all received "Snow Dome". I was very happy!
Besides skiing and English lessons, we did many other things. We went shopping in town, roasted marshmallows on an open fire, and dived into a swimming pool.
On the last day, we exchanged our Email addresses. We now keep in touch by exchanging Emails.
Every single day of my stay in Switzerland was incredibly great. Ms. Tayama, Mr. M, and everyone who supported the project, THANK YOU VERY MUCH!
I WILL visit Switzerland again.
Not that "I want to visit again", but "I WILL visit."
Hanon Watanabe